Father and Mother
My parents were:
My mother, Alice Maria, born Dahlstedt and
My father, Oskar Edvard Tjäder
And then there was
my grandmother Fanny Tjäder, a real special lady. She also has a family tree way back in time.
To read more about them, click on the links above.
To the right: Me at age 7 months, mother and father and grandmother Fanny behind my father (early 1944).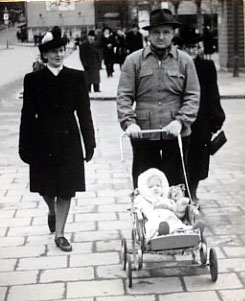 Mother, father, grandmother Fanny and me at Medborgarplatsen, Götgatan, Stockholm in 1944.