Fanny Augusta Konstantia Tjäder
Born 9th September, 1884 in Nacka
Died 21st January, 1960 in Stockholm
Fanny as a teenager.
Fanny, my grandmother, had two sons, Oskar and Valentin. The father to both sons stayed unknown to all but herself as long as she lived. She simply refused to give his name, no matter how much the family pressed her about it. She worked all her life until the age of 70 as a seamstress (if I remember correctly).
She lived with my parents and me until I was about 12 years old when she moved to her sister Edits' flat.
These are my grandmother Fanny's parents, Hulda Martina Johansdotter and Jöns Persson Tjäder.
Read more about Fanny's parents here.
To go further back in time for the whole familytree from Fanny and back, click here.
Above, Fanny's family.
Backrow: Sigrid, Jöns, Hulda and Fanny.
Children: Ture (my father's uncle) and my father Oskar.
Frontrow sitting: Lilly, Gustaf and Edit.
Compare the sisters above to the image below.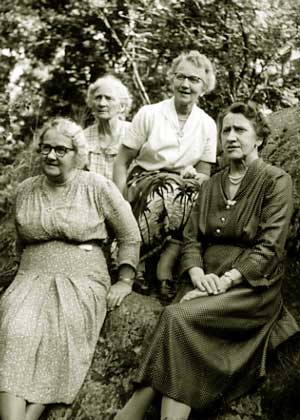 Four sisters – Fanny, Sigrid, Lilly and Edit. The year is 1954
All the brothers and sisters were:
Ester Martina Elvira, Oct 8th 1883 – mid 1890th
Fanny Augusta Konstantia, Sep 9th 1884 – Jan 21st 1960
Sigrid Helfrida Ingeborg, Nov 1st 1886 – Feb 27th 1976
Bror Gustaf Donartur, June 6th 1889 – in the 1940th
John Teodor Maximus, Nov 18th 1891 – 1933
Edit Ulrika Eleonora, July 4th 1894 – May 7th 1972
Lilly Aurora Teresia, April 25th 1897 – Aug 23rd 1990
Knut Ture Hilding, Dec 24th 1904 – March 2nd, 1993
Fanny at school some time in 1890 something. To see the full photo with Fanny in school, click here.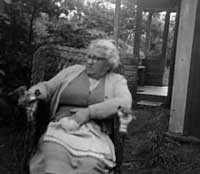 Grandmother Fanny – one of the last pictures of her.