Preloading an Image – Tutorial for GoLive CS
When you use the Action Set Image URL you might consider to also use a Preload action for each of the larger images so the visitor doesn't have to wait too long for the imaes to appear. We have done so in the live example for the Set Image URL here. It is also useful in other cases where a larger iamges is not the first one to be shown on a page but only appears of you either hover over the smaller one or a button, or click it.
This is how you set up a Preload action:

1. Switch to the toolbar called Smart (second in the upper row of buttons for toolbars).
2. Choose the last button in the lefthand row with an A at the top of the symbol.
3. Doubleclick it or drag it onto the page whree you want to use a header action.
It will automatically place itself in the heder aprt of the page. If it is not yet open, open it so you see the symbol with the questionmark.

4. Select the symbol with the questionmark and open the palette called Rollovers & Actions.
Go to the tab called Actions.
5. In the Events part of the Actions palette the On Load is already selected and the ? None to the right. Use the dropdownmenu called Action that has a small downarrow on it and choose Image, Preload Image.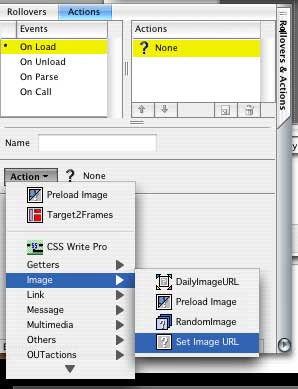 Check the symbol in the documents header. It should now look like this:
6. If not already selected, select the header action with the symbol:
7. In the Actions palette in the field for Link, link to the first of the larger images that you want to preload.
Repeat this for each of the images you want to preload. If you have 18 large iamges, use the Preload action 18 times in the header of the document. Very repetetive, but it will provide the visitor with a better experience and less waiting for the images when clicking or hovering over your mini-images.