Samos is situated in the Aegean sea, far to the east and very close to Turkey. Nowdays you can visit Turkey by boat from Samos over the day. The island isn't bigger than you can encircle it by regular bus in one single day. The island is green with soft mountains. Unfortunately there have been some serious fires on the island which has partly destroyed some of the woods.
The capital, Samos, is built like an amphitheater at the end of a deep bay, next to the harbour of Vathi. The town is often also called Vathi.
Other towns on the island is Karlovassi in the north, and Kokkari, also in the north. In the south there is Pithagorio. The first time I was at Samos, we stayed in Samos town. The second time, in 1994, I stayed just outside of Pithagorio, but I visited all the other towns as well during my two week stay.
Samos is a nice enough island, but I didn't intend to come back a second time. It just happened as I was very late in booking my vaction and it was all that was left. Samos has lots of tourists and is no longer very "greek".
Pythagoras came from Samos by the way.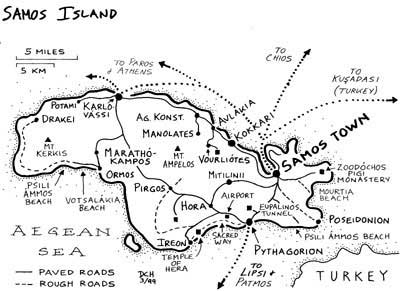 This map was borrowed from this site.
There doesn't seem to be any really good sites about Samos, oddly enough.
The one above was the best I could find and that was an excerpt from a book.